This article details currently available dashcam settings that can be adjusted via the Dashcam Admin page. 3.6.0 has introduced Dashcam AI Features! Additional settings will be available in an upcoming release relating to this new functionality such as the ability to turn certain events on/off and adjust sensitivity levels. At the time of release, this article will be updated.
As of version 3.5.0 dashcam settings can now be adjusted via the Dashcam Admin page. Historically, dashcam settings have been often been adjusted by the ClearPathGPS support team either prior to dashcams shipping out or after they've been deployed. Any configurations you've made through the support team or on the dashcam itself will not have changed or need to be "set again". See below for more information.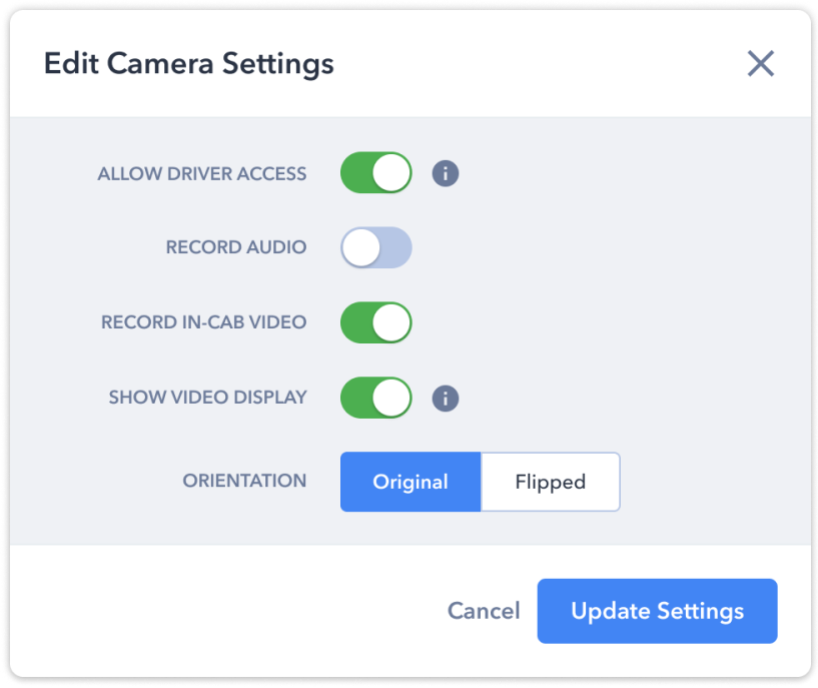 To adjust camera settings your user will need to be set to an admin level role.
These settings can be found by navigating to Admin -> Dashcams.
Next, select one of your dashcams by clicking the blue link in the 'Name' column.
On the right hand side of the page you should see a box labelled 'Camera Settings' that displays the known current settings of the dashcam.
At the bottom, click the 'Adjust On-Camera Settings' to make changes. The different settings are described in detail at the bottom of this page.

Once you've made any necessary adjustments click 'Update Settings'
If the dashcam is online, most settings changes will take effect immediately or once the dashcam reboots (periodic reboots occur once every 24 hours); some setting adjustments will trigger a reboot automatically.
If the dashcam is offline, settings are stored sever side, meaning they will take effect as soon as the dashcam comes back online or is installed (i.e. settings can be adjusted before the dashcam is installed!)
Allow Driver Access - Enables the driver to make adjustments to settings such as the In-Cab (driver facing) camera being on or off, video display and orientation. Audio cannot be controlled by the driver regardless of this setting.
Record Audio - This setting turns on audio recording for all recorded footage.

Different states may have laws and legal requirements around consent and audio recording, you are responsible for researching them and taking the appropriate actions to ensure compliance.

Record In-Cab Video - Turn the driver facing camera on or off.
Show Video Display - Choose whether the dashcam screen displays the footage it is recording or not. If this is set to off the dashcam screen will be black but it will still display the cellular connection status and settings menu at the bottom of the screen.
Orientation - If your dashcam has been installed inverted (which is typically the recommended way of installing) then this option should be set to "Flipped". Not sure? If your dashcam media is coming through upside down then you likely need to adjust this setting.