ClearPathGPS can report on three maintenance schedules:
Mileage based schedule #1
Mileage based schedule #2
Time based schedule
---
The maintenance schedules and history are setup on the "Administration" / "Vehicle Administration" page.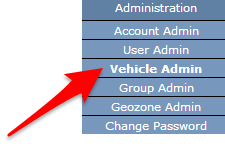 ---
On the "View/Edit Vehicle Information" page complete the following following:
Reported Odometer : This is the vehicle's current odometer reading.
Maintenance Notes : These appear on the "Vehicle Dashboard" report and are helpful to remember the purpose of each service milestone.

---
For each of these two sections enter the mileage of the last service, and interval until the next.
Note: If the vehicle has been recently serviced click the "Check to reset" and then click the "Change" button to set this to the current odometer reading.

---
Enter the date of the last and next service.

---
Once these values are entered access the "Periodic Service Report" on the "Reports-Group Summary" menu.
Note:
The initial odometer reading is entered by our installer. It is automatically updated while the vehicle is being tracked. However, a small amount of drift from the vehicle's odometer reading is to be expected as the system calculates the odometer using GPS information. To update the reading enter a new value in the "Reported Odometer" field and click "Change".