Creating Vehicles and Trailers
To create a equipment profiles for your vehicles and trailers you will need to login into the VisTracks web portal

 

here.
Expand the settings section on the left hand side and click on "Equipment"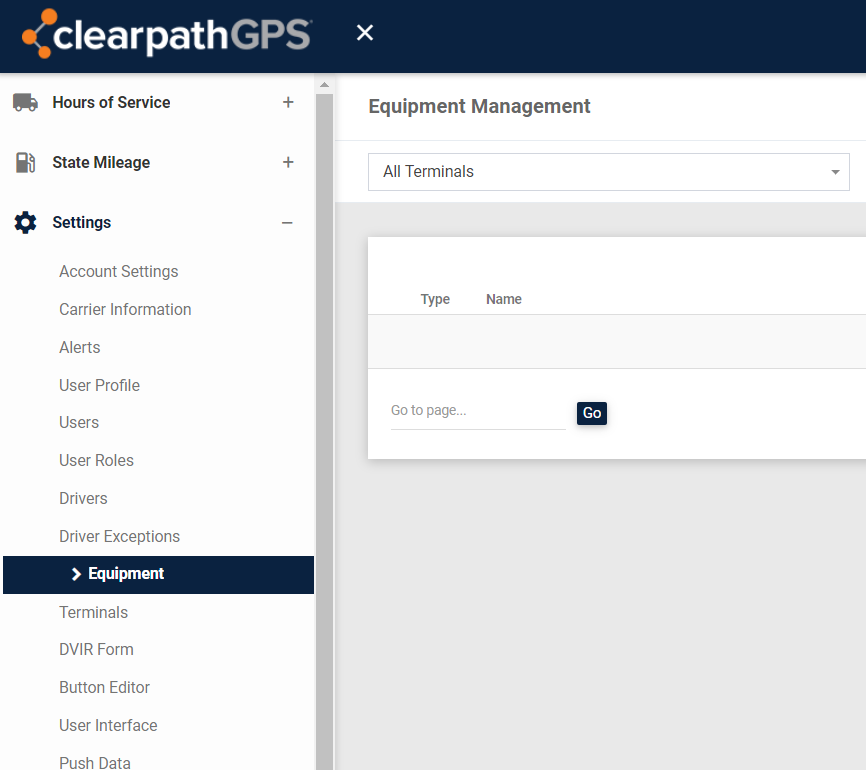 To add a new vehicle or trailer use the '+' symbol in the circle on the right hand side.

A window will open for you to enter in all of the information about the equipment.

You must have an equipment profile created for each vehicle using that will be utilizing an ELD setup
The information required to create an equipment profile for a vehicle is as follows:

Name of the vehicle (we advise that you make this match the names of your vehicles in the ClearPathGPS portal)
VIN
Odometer Offset - Only used if there is a discrepancy between what the dash of the vehicle displays and what odometer is read from the vehicle by the tracking device (i.e. when the chassis and the engine have different mileages).
License Plate, State and Country
DVIR Form - The default DVIR form that you want the driver to complete for this vehicle
Home Terminal - If your company has multiple terminals you can select the base location of this equipment, otherwise just select main office.
Visbility Set - Allows you to create groups for the equipment so you can control which users can see which profiles.
GPS Receiver - This setting defaults to "Either Device" and relates to which part of the GPS system is providing the GPS location information.

ELD Configuration (Important) - This is where you select the hardware you are using. For most customers there will be just one option which is the Pacific Track Device.

Select the Pacific Track device

You do not need to change any of the following settings any of the following settings that appear once you have made the device selection

Connection Type
Device Name
MAC Address
PIN #

Android tablets will upload most of this information after an initial connection the the ELD device has been made.
Apple tablets do not upload this information after initial connection.

Additional Device Settings

Use GPS Odometer - This should only be used when the ELD device is unable to read the engine hours from the vehicle's computers.
Use Manual Engine Hours - This should only be used when the ELD device is unable to read the engine hours from the vehicle's computers.
Requires VBUS connection for driving - By default this is checked and means that if the driver's tablet is not connected to the ELD device that is plugged into the vehicle then the drivers log will not remain in driving.